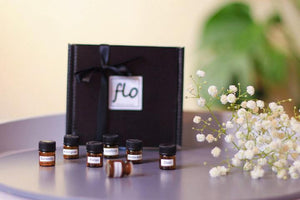 We understand that a big part of selecting your favourite fragrance is the process of experiencing the various essential oil blends before choosing one that hits the perfect note for you.
Each blend has been loving created here at flo using a unique blend of oils chosen for their individual aromatherapeutic properties and beautiful fragrance.

To help you do this we are now offering 1ml samples of each of our blends. So whether you are looking for the perfect oil, natural soy candle, reed diffuser or room mist; our scent discovery vials are a wonderful place to start. What's more postage is free and you'll receive a voucher towards your next purchase.

Each 1ml sample provides approximately 20 drops of essential oil for you to enjoy; by simply adding a little to an electronic diffuser, oil burner or to your bath before allowing the aromatherapeutic properties work their magic….inhale, enjoy, exhale, repeat…
We have two options, all of which come with free postage and a discount code for your next order. Simply select from the options below and we will pop them in the post for you to begin your aroma adventure.
Complete discovery set: Here you can experience our full range of fragrances including limited editions for only £7.
Pick and mix set: Here you can select your own fragrances to try. Select three of the following scents for just £4. Add the three fragrances as a note with your order.
Energise this perfect blend includes fresh orange and floral geranium. This combination produces uplifting and energising properties, and is known to help relieve stress and headaches. These essential oils are also believed to stimulate positive energy, therefore, beware you could experience intense feelings of joy and happiness!
Halcyon is a spicy, warm combination that evokes joyful and serene recollections. This is a contemporary take on the well-known aromatic accord of the chypre scent family. The deep, earthy notes of patchouli and cedar wood are balanced by the spiciness of pink pepper and cardamom in this harmonic blend of essential oils. A slice of lime adds a sensual scent that transports you into the loving embrace of a warm wooded hideaway.
Relax brings about a sense of calm and relaxation. This floral union has been crafted in order to relieve the stresses and strains of everyday life. Amongst the essential oils used, Relax utilizes the harmonising aromas of lavender, marjoram and petitgrain.

Serenity a combination which produces a heavenly fresh, floral scent thanks to a divine fusion. This includes geranium - ideal for alleviating stress, lavender to promote tranquillity, and the soothing queen of essential oils rose, allowing you to relax and unwind.

Uplifting an amalgamation of oil which exude a beautifully fresh floral scent. The scent includes mandarin, known for promoting calmness and raising your spirits, with the floral notes of geranium and clary sage, resulting in an invigorating aroma.
Zest a unique fusion of several essential oils, which together zing with freshness and help to raise your spirits. The vitalizing citrus scent is the result of a carefully selected blend of pure essential oils including refreshing lemongrass, crisp lime and tangy grapefruit.