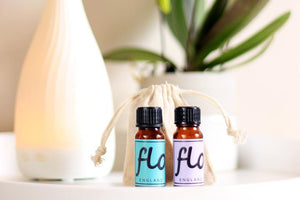 Day + Night - A perfect combination of hand-blended essential oils for everyday well-being. This duo of uplifting and relaxing oils has been created to help you stay fresh and invigorated during the day and to unwind on an evening and smooth the way for a good night's sleep.
This duo includes two 10ml bottles of pure therapeutic grade essential oils
Relax oil is a combination to bring about a sense of calm and relaxation. This floral union has been crafted in order to relieve the stresses and strains of everyday life. Amongst the essential oils used, Relax utilizes the harmonising aromas of lavender, marjoram, and petitgrain.
Uplifting an amalgamation of oils to exude a beautifully fresh floral scent. The scent includes mandarin, known for promoting calmness and raising your spirits, with the floral notes of geranium and clary sage, resulting in an invigorating aroma.
This duo fits perfectly through a letterbox, so the lucky recipient doesn't need to be at home to receive them, so if you want to treat yourself, surprise someone special or send a little thank you, what are you waiting for! We'll even gift wrap for you.
Technical information and warnings.

Not for internal use – Do not use undiluted on skin. Avoid contact with eyes. Flammable.
If you are pregnant or have a medical condition, please seek medical advice before using any essential oils.
Allergies – Contains potential allergens including: Limonene*, Geraniol*, linalool*, beta-pinene* and citronellol*. *All naturally occurring within the essential oils. May cause an allergic skin reaction, If on skin wash with plenty of soap and water.
Storage – Store out of direct sunlight at normal room temperature. Always keep in original bottle and keep out of reach of children and pets
Shelf life – Best used within one year of opening.