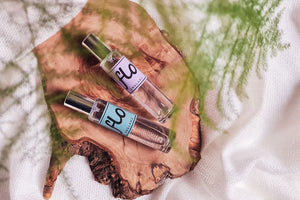 Day + Night - A perfect combination of uplifting room spray and relaxing pillow mist for everyday wellbeing. This duo has been created to help you stay fresh and invigorated during the day and to unwind on an evening and smooth the way for a good night's sleep.
Relaxing pillow mist - It will come as no surprise that essential oils are a key element to a sleep routine. British researchers in 2012 reviewed the scientific evidence associated with lavender oil and found when lavender was inhaled it could help to improve sleep, and with lavender at the core of our relax essential oil blends used to create our pillow mist, crafted to relieve the stresses and strains of everyday life and aid a good night's sleep.
Uplifting room spray - Regardless of whether someone is an early bird or a night owl, we are all prone to a mid-afternoon slump, when our energy levels dip and productivity takes a hit. Alongside a good stretch, the uplifting room spray with its energising oil blend can help you stay fresh and see you through any dull Zoom call!
This duo includes two 50ml bottles 
Technical information and warnings.
2 x 35ml – recyclable glass bottle
100% natural – 90% + certified organic ingredients – no artificial fragrance – pure essential oils