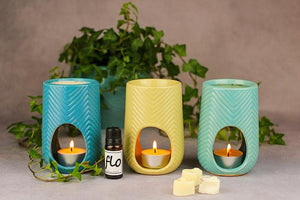 We've hand-picked a collection of wax melters/oil burners with quality and design in mind, to complement our range of soy wax melts and unique essential oil blends.
These beautiful, herringbone design, ceramic melters are available in three colours and are suitable for use with water and oils, and wax melts
Height 12cm Width 7.5cm Depth 7.5cm
Safety information:
These melter/burners may get hot while in use, take care when moving them. Always allow enough time for the holder to cool down before handling.
A standard good quality soy tea light should be used.